without the beauty of the heritage, it is my opinion that the food cant be properly appreciated. The hubs' family has taught me SO much in the kitchen, and there seems to be a story to go with every recipe. I thought I'd introduce you to "La Familia", so you'd have faces to go with the people I mention here. :) This picture was taken almost exactly one year ago, about 7 months before we lost Grandpa. :( We had so much fun celebrating Grandma and Grandpa's birthdays that day, and I will never forget how lovely the party was. We miss Grandpa every day, but his contributions to his family will never be forgotten.
In this pic, is the hubs' grandparents, the hubs, me, and the three kiddos. My MIL was taking the pic, so I'll post another of her in this post.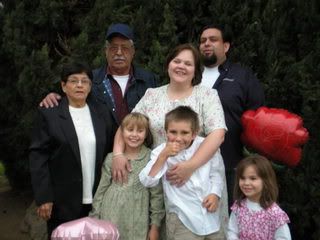 Grandma, and Miss Trin. Love this pic.
And a very special picture: Grandpa, two of the kids, and my MIL. Grandpa was so happy that day. So, so happy. :)
Part of the beauty in any cooking is the history and stories behind the recipes. Perhaps its why I enjoy cooking like I do. :) What a blessing it is to have family to share that beauty with.